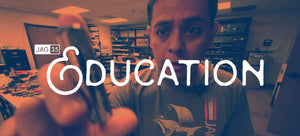 Introducing the JAG35 Education Discount Program
I'm all about hands-on learning, so having access to good learning tools is key. The JAG35 Education Discount Program makes various JAG35 products more affordable, allowing students and educators to use these products as learning tools. This program adds a 10% discount on education orders, making it perfect for educational programs revolving around DIY projects, Shop class, Lithium Batteries, Solar, EVs, Science, Engineering, Electronics, Robotics, Mechanical, Electrical, Green Energy, Sustainability, and Recycling.
To become eligible:
Email support@jag35.com using your ".edu" email. This program is especially made for currently serving school faculty, but current students may also be eligible.
>> Click here to apply <<
Create a JAG35 account with your ".edu" email address, provided by the school you attend or work with. Once you've created the account, and once you've been approved, at checkout use the education discount code we sent you to take advantage of the savings. Code will be emailed upon approval.
What if we're an independent school and don't have a ".edu" email?
If your school doesn't use a ".edu" email, plz contact us at support@jag35.com so we can briefly discuss your school program and eligibility.
Open to global schools and students?
We hope to open this program to worldwide faculty and schools in the future, but we are currently limited to shipping only within the USA and its territories (batteries only within the contiguous 48 states). For this reason the program is currently open to USA faculty and students. If you're a faculty or student of a global university but currently reside in the USA and can receive packages at your US address, plz email us at support@jag35.com so we can briefly discuss your school program and eligibility.
>> Important note regarding Purchasing, Payments, and Accounts Payable for school and universities:
We're always looking for ways to serve our customers better. Currently we're set up mainly for B2C (business to consumer), so we primarily accept credit card payments for orders. We're discussing the possibility of accepting school Purchase Orders with terms in the near future, but not currently. For now we may be able to accept a school check on a pre-pay basis, please contact us at support@jag35.com so we can approve orders that may be paid by school check. If your order is a large bulk order that would necessitate a PO + terms, please contact support@jag35.com so we may discuss your order on a case by case basis.
As usual, orders can be made available upon request for free local pickup (without shipping costs) if you can bring your own truck to our 91730 zip warehouse in California, perfect for schools local to our area or if you just like to handle your own LTL logistics.
To see great deals and learning tools for Educational Programs, click on our "Deals" > "Education" (or simply click here).
For questions and support regarding the JAG35 Education Discount Program, feel free to email us at support@jag35.com
- Jehu and the JAG35 Team
---
1 comment